Whitewater multi activities
Savoie

A DAY OF WHITE WATER ACTIVITIES
During a day of whitewater activities, you get to choose two of our offers: rafting, hydrospeed, canoeing and kayaking.
Do water sports, crystal clear mountain water and adventure appeal to you? Then these formulas are just what you're looking for. Pick an activity that you find the most exciting and call us to book it.
Bourg-Saint-Maurice and the surrounding Savoie ski resorts will be the central point of our white water activities on the Isere. One exception is an excursion close by, to neighbouring Italy for the real addicts, with a trip down the Dora Baltea.
Any of the whitewater activities you choose, such as rafting, hydrospeed and canoeing, can be done either in the morning or the afternoon. You get to create your own day.
WHITE WATER SPORTY WEEKEND
You can choose to spend your whitewater weekend either in the Tarentaise, the Alpes-de-Haute-Provence or Italy's Aosta Valley. Personally, we have a real soft spot for the Tarentaise, and this is what we can offer you.
Our incredible rivers and canyons are born from the snow-capped peaks around us.
And it is in this water, straight from our mountains, that you will be able to experience the adrenalin rush of a river run. Over this whitewater weekend you can try out rafting, canoeing or kayaking, hydrospeed, also known as whitewater swimming and riverboarding, and canyoning in a fantastic atmosphere.
Our team of guides are great at sharing their whitewater experience, and their passion for the sport is contagious - you're in for a weekend like no other.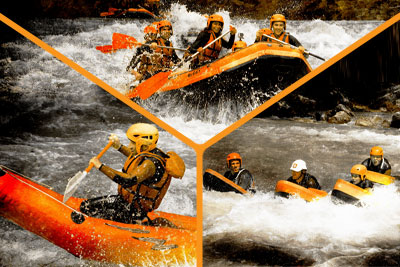 For a group of 5 minimum
Price for a full day: From €230/pp
For a group of 12 minimum
Price for the weekend: €260/pp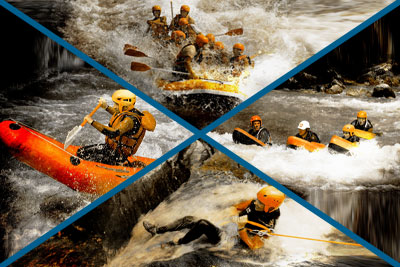 Price for a 5-day course: €550/pp
Day 1:
Rafting and hydrospeed on the Haute-Isere
- Meet and greet with your river guides by the Haute-Isere at the Bourg St Maurice international whitewater base. Your river guides for the course will introduce you to the equipment used and the basic features of the white water environment. You will also get a safety briefing. In the morning we will raft down the Haute-Isere from Bourg St Maurice to Gothard (Grade 3). The theme for this run will be an introduction to white water and the safety techniques (a swimming test in Grade 2 rapids, using safety ropes and rescuing a swimmer etc.). Then it's back in the raft to tackle the Aime rapids further along the Haute-Isere. Your first thrills, your first adrenalin rush!
- In the afternoon, we will go white water swimming down the incredible Villette Gorge between Aime and Centron.
- Everything is an opportunity to have whitewater fun: surfing the rollers, executing an Eskimo roll on the crest of a wave, using an eddy to help you stop and jumping off the Pont Romain bridge!
Day 2:
Canoeing on the Haute-Isere and rafting on the Doron de Bozel
- We'll kick off the day by paddling down the Bourg St Maurice / Gothard trail in canoes. We will take the rafting navigation techniques you learned further and teach you how to steer your crafts on your own.
- In the afternoon we will leave the Tarentaise Valley and head to the Bellevilles Valley with its magnificent river, the Doron de Bozel. We will raft down this superb trail which is very different from the Haute-Isere.
- Tight turns, little sills, navigation through undergrowth; this river will be something you will never forget!
Day 3:
Introduction to canyoning and advanced river board or canoeing
- We will devote the morning to canyoning down the Rousses Canyon near Lechere - a perfect site for an introduction into this activity. The canyon features abseiling sections of 2 to 7 metres, little jumps and slides.
- In the afternoon you can choose whether to improve your skills in whitewater swimming or canoeing through the most powerful rapids of the Haute-Isere: the Aime rapids.
Day 4:
Canyoning
- We will spend this entire day going down the Montmin Canyon or the Angon Falls, depending on water levels. We will head to either the Montmin Canyon with its small jumps, great slides and five abseils of 7 to 15 metres, or the canyon through the Angon Falls with its huge abseils or rappels (40 metres and a 20-metre pendulum abseil). Both canyons finish close to Annecy's magnificent lake where we will have a swim.
Day 5:
Rafting on the Dora Baltea in Italy
- To go rafting on the Dora Baltea, first we need to drive over the Petit-Saint-Bernard Pass (2,300 m). This road offers incredible views of the Mont Blanc mountain and range. Then we head down into the Aosta Valley where the legendary Dora Baltea flows. Our day's rafting will see us paddle down the finest trails of the Dora Baltea, taking in the Pre-Saint-Didier rapids and ending with a passage over the famous sliding dam. We'll finish our trip in the Leverogne Gorges and the grand finale of this navigation will be the Moby Dick section.
This programme is offered as guidance only. Changes or alterations may have to be made depending on technical criteria, safety requirements, weather conditions or water levels. Should this be the case, such decisions will be made by those running the course and them alone.
Requirements for the whitewater course
This white water course does not require any particular technical competence or an exceptional level of fitness. Whitewater sports are accessible to all those who love discovering new experiences. However, you do need to be in good health, know how to swim and be able to go underwater to navigate down a river.

Price for whitewater courses: €550/pp
Accommodation for whitewater courses
You can stay in a gite when you sign up for a white water course. There are also camping options (the Le Reclus camp site in Seez or Huttopia in Bourg St Maurice).
Please check out our Accommodation page when getting ready for your white water trip. For more information about whitewater sports.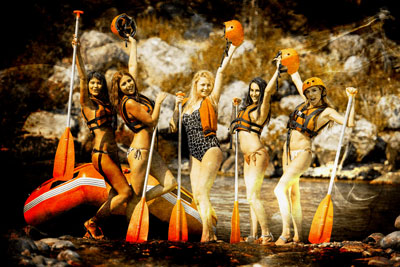 Now here's a fun idea!
A great adventure, and life-long memories
RAFTING ON THE DORA BALTEA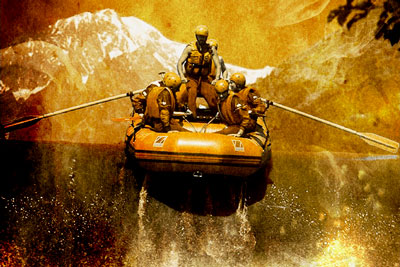 Aosta Valley - Italie
The Dore Baltée is the name commonly used in France but, since this river flows through Italy, we use its Italian name: Dora Baltea.
After driving through the Mont Blanc tunnel (from Annecy) or over the Petit-Saint-Bernard Pass from Bourg-Saint-Maurice, we enter the Aosta Valley where the Dora Baltea flows. This river is also known as Europe's Colorado.
With its awesome wave trains and impressive rapids, this torrent of several hundred m³ of water, fed by the glaciers of the Mont Blanc, is the ultimate run for many looking for challenging, invigorating rafting.
Over the course of a day, we will explore legendary rafting river's most spectacular trails.
Going with the flow on the Dora Baltea
During the day we will complete 3 runs on the Dora Baltea, the exact trails will be picked depending on water levels.
On arrival, you will be greeted by your river guides at Pre St Didier. They will run through the equipment, basic rafting techniques and safety instructions. Our first run will take us as far as La Salle with its breath-taking view of the Mont Blanc.
The next run we suggest will start from Pre-Saint-Didier or Champex, two kilometres upstream. To make things even more exciting, we will tackle the famed Pre Saint-Didier straight line and carry on all the way to La Salle.
After lunch, usually beside the river, we will head to the Leverogne Gorges section and paddle to just before Aosta.
The day's activities will come to an end around 5 pm.
This programme is offered as guidance only. It may be changed at any time, depending on weather conditions, water levels and other risk factors.
Season: from June 1 to September 30 (depending on the mountain pass being open).
Rendezvous at 9 am at Pre Saint-Didier (Aosta Valley).
Price: €260/pp
WHITEWATER WEEKEND IN THE ALPES-DE-HAUTE-PROVENCE
- If you are holidaying in the South of France, near Embrun or Barcelonnette, why don't you contact Oueds & Rios for your white water weekend in the Alpes-de-Haute-Provence? A white water weekend on the River Ubaye awaits you, with a great team of river guides to ensure you have plenty of fun - safely.