RAFTING BOURG-ST-MAURICE 2022
The Rivers Runners philosophy is to share their passion :

White water base Bourg-St-Maurice
We paddle down the best white water rivers in France and Europe especially in the Northern Alps (Savoie, Haute Savoie, Val D'Aoste in Italy, Slovenia...) and in the southern Alpes (Hautes Alpes, Alpes de Haute Provence) and also further away in Morocco, Nepal, Quebec, Chile...
Our activities: rafting, hydrospeed, canoe-raft, kayak and canyoning
White water Bourg-St-Maurice, Landry, Aime, Centron
We offer various white water activities, and you can choose anything from a half day outing to a weekend break, a 5 day course or an expedition for the more daring. On a raft or hydrospeed you will venture down the best rivers in the Alps, including the three famous rivers for rafting in the Savoie and the Val d'Aoste : the Haute Isere, the Doron de Bozel and the Dora Balte. We also propose multi activity programmes where you can practice all kinds of white water sports such as rafting, hydrospeed, canoe-raft and canyoning.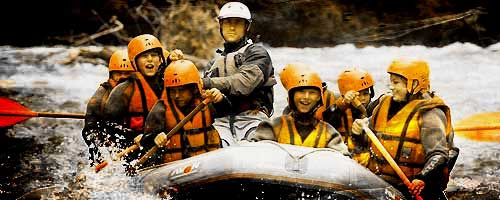 White water rafting Bourg-Saint-Maurice
white water / rafting base camp is at Bourg St Maurice, on the famous Isere river situated in the Valley of the Tarentaise in the Savoie, close the National Park of the Vanoise. We descend the Isere river to Centron via Landry and Aime.
Courses, programmes, organisation, etc.
Le white water 5 day course enables you to discover the best river spots and canyons of the northern Alps.
Our team members are experienced river guides, kayak experts and white water professionals since 1986. We can organise personal white water sessions to suit all ages and abilities. You can book a river guide on a half day, daily, weekend or longer stay basis...
On the "Next Departures" page, you can have a look at our planned weekends, courses and trips and if tempted, you can join in, whether you are alone or part of a small group.
Do not hesitate to contact us if you would like to plan a white water experience, we will be happy to set up a tailor made programme, choosing the best spots and the best time for you to discover or rediscover the perfect river, coast or canyon.

Qualified and experienced guides:
The Rivers Runners (Coureurs de Rivières ) was set up in 1986 by Lionel Lafay.
All our guides are professionals and possess the required diplômas (state diplômas). Their aim is to navigate you safely down some of the world's best rivers and canyons, ensuring that you will have a really enjoyable experience.
These individuals have chosen a unique lifestyle which they are passionate about and you will undoubtedly be inspired by them and their experience.
Eco adventures:
Our aim is to allow you to experience a real adventure, discover an amazing natural environment, with great white water sensations, with the best techniques of navigation and a real emphasis on safety.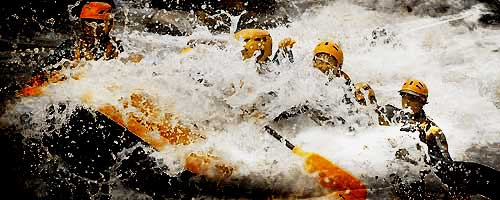 Quality equipment:
The very top in terms of equipment ! Our rafts (Avon rafts) are easy to manoeuvre, stable and comfortable and are perfectly adapted to alpine river courses. The hydrospeed's floats are made out of roam rubber and our canoê-rafts are self-bailing. We equip you with long john neoprene wet suits, 5 mm thick for the legs and 3 mm thick for the jackets or water spray jackets, and also neoprene foot wear. The River Runners have not skimped on the quality of equipment !
Thank you for visiting our website.
See you soon.
The River Runners / Coureurs de Rivieres team