White Water Bourg St Maurice

Savoie White Water
Whitewater sports in Bourg St Maurice in Savoie are what River Runners is all about. Our whole reason for being is to share our passion for rafting, canoeing, hydrospeed and canyoning with you.

Bourg St Maurice
Whitewater Base
Our hearts and headquarters are at the Bourg St Maurice Les Arcs international whitewater base. The reason is simple: the Haute-Isere is a perfect river for whitewater navigation and all the other sports that go with it such as canoeing-raft which we also run from Bourg St Maurice..
Of course we also paddle the best white water rivers in the rest of France and Europe, and even organise expeditions to Morocco, Quebec, Nepal and Chile.
Our services:
Rafting, hydrospeed, canoeing and canyoning
We offer various whitewater activities of varying levels of difficulty depending on your experience, your ability and how much time you have.
These activities run from a half day to a whitewater weekend at Bourg St Maurice Les Arcs La Plagne Tarentaise, a 5-day course or even an expedition for the keenest among you.
On rafts or hydrospeed, you will run the best rivers in the Alps one after the other, including the famous three Savoie and Aosta Valley rivers: the Doron de Bozel, the Haute-Isere and the Dora Baltea (unforgettable).
It goes without saying that with our multi-activity programmes you will be able to enjoy all whitewater disciplines, from rafting to canyoning, plus hydrospeed and canoeing.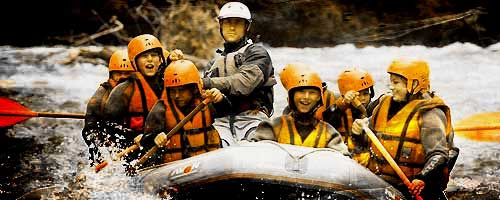 THE MOST POPULAR WHITEWATER COURSE
The most popular whitewater course is, without doubt, the run down the Haute-Isere which winds past Landry, Gothard and Aime all the way to Centron.
It is always in great demand and always greatly appreciated. Our base camp in Bourg St Maurice Les Arcs provides the rendez vous and start point for this trail. Your river guide will be there to welcome you and provide navigation and safety. Then it's time to change into wetsuits and paddle the River Isere as far as Centron, navigating past Landry, Gothard and Aime.
BESPOKE WHITEWATER COURSES
Starting from Bourg St Maurice, the 5-day whitewater course gives you a chance to discover the best white water and canyoning routes in the Northern Alps.
River Runners Rafting Organisation (Coureurs de Rivières), specialists in navigating rivers in France, organise à la carte whitewater programmes. There is a flat rate per river guide, whether for a half-day, full day, weekend or longer stay.
In the "Multi Activities" section you will find a few ideas for weekends, courses or whitewater trips so you can join in our set programmes, whether you are on your own or part of a group.
Please don't hesitate to contact us so that together we can draw up a white water plan covering the rivers, seas and canyons you would like to explore or revisit in the ideal season.

QUALIFIED AND EXPERIENCED RIVER GUIDES AT THE HELM
River Runners Rafting Organisation (Coureurs de Rivières) was founded in 1986 by Lionel Lafay, a Savoie white water sports enthusiast. The operation is run by a group of professional river guides with state diplomas. Their goal is to take you on the best rivers and down the best canyons on the planet.
SAVOIE WHITEWATER
AN ECO-FRIENDLY ADVENTURE
White water sports are adventure sports practised by people who have always known how important the environment is. Our aim at River Runners is for you to enjoy great adventures, discovering a stunning natural environment, in complete safety. The best navigation techniques will ensure you experience all the thrills whitewater has to offer in its purest form.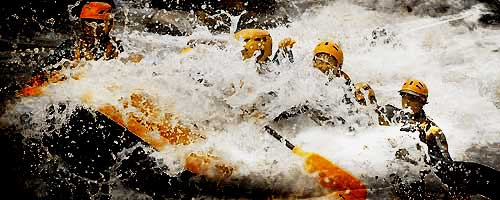 QUALITY WHITE WATER EQUIPMENT
The very best equipment! Manageable rafts suited to Alpine courses. Foam hydrospeed boards, self-bailing canoes, 4 mm long-john neoprene wetsuit bottoms, 3 mm neoprene wetsuit tops, neoprene booties with soles, for the feet. Only the very best at River Runners!
EXPLORERS, ENTHUSIASTS, DREAMERS, ADVENTURERS?
With friends or family, a works outing, a conference, a school or club trip - whatever the context, you are in the right place for your white water adventure.
Whitewater half-day, white water full day, a multi-activity whitewater weekend or riding several rivers to really have fun. Whether taking a course or going on an expedition - enjoy white water to the full with River Runners Rafting Organisation. Browse our website which details all our services and options, and provides photos and videos. If you would like to find out more, please get in touch. It's what we're here for.
Thank you for visiting our website.
See you soon on the river.
Personal equipment required :
Towel, swim wear.
For those who wear glasses and to keep them on for the activity, you must bring a cord to attach them.
For the canyoning, you must bring a pair of trainers or shoes which protect the ankles (best to bring an old pair as you will be in the water).
The guides :
All our guides are part of the River Runners / Coureurs de Rivieres team and are experienced professionals, possessing all the required diplomas.
ALPES-DE-HAUTE-PROVENCE WHITE WATER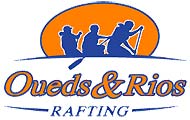 If you are in the Alpes-de-Haute-Provence or the South of France, our partners and friends Oueds & Rios are River Ubaye whitewater sports specialists. You will find them at Méolans-Revel, between Embrun and Barcelonnette.
It's only 2.5 hours from Marseilles.