Kayaking & Canoeing Savoie

Kayaking & Canoeing
Bourg Saint Maurice
Canoeing and kayaking on the Isere from Bourg-Saint-Maurice in Savoie is a real delight to be shared.
You might sometimes see canoes referred to as "hot-dogs". Our canoes are inflatable, like our rafts. This means you can run tricky rapids in tandem more easily than in a traditional canoe.
Kayaks are for one person only. Because they are unsinkable, you can really get the most out of a river in a canoe or kayak. In other words, they give us more stability and are simpler in terms of whitewater technique so we can have even more fun.
You will be surprised at just how quickly canoes and kayaks react when you tackle the rapids on our wonderful Isere River. The run soon becomes a series of fun and exciting moments. The only tricky bit is getting the right partner! Don't hesitate to mix several white water sporting activities, with one in the morning and another in the afternoon. For the sportiest among you, we can even put together a whole weekend with a combo of adventures, fun and new thrills in a programme of different whitewater pursuits such as hydrospeed, rafting and canyoning.
Canoeing-raft ou Kayaking-raft ?
Kayaking-raft = 1 person (single-seater craft)
Canoeing-raft = 2 person (two-seater craft)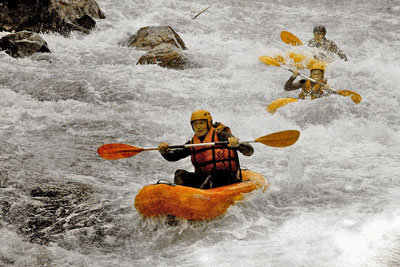 9 km of river, 90 mins of sailing, Grade 3
Price: €65/pp. From 13 years old
Rendezvous: 9 am and 1:30 pm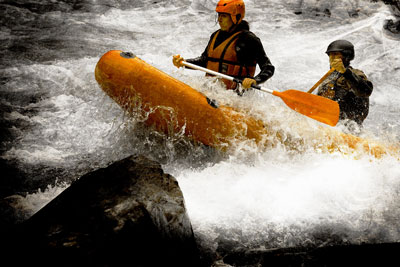 13 km of river, 120 mins of navigation, Grade 4
Price: €80/pp. From 15 years old
Rendezvous: 9 am and 1:30 pm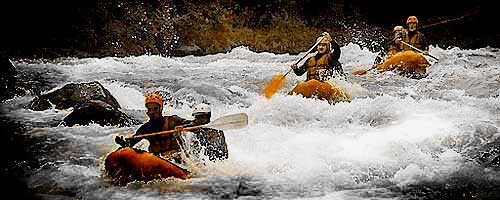 CANOE RUNS
PER GROUP OF 4 TO 5
Each group is accompanied by a qualified river guide. You will be kitted out with a neoprene wetsuit, neoprene booties, a life jacket and an EC-standard helmet.
Canoeing in Savoie is mainly on the Isere. It goes without saying that the trail varies depending on water levels and how experienced the group is.
CANOEING ON VIDEO
There's nothing like a little video to give you a foretaste of your canoeing-raft or kayaking-raft run on the Isere in Savoie.
We shot this video on the Sesia River in Italy, not far as the crow flies.
Beginner Canoeing-raft and Kayaking-raft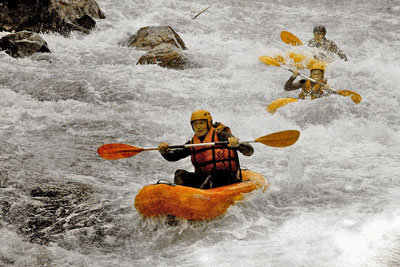 The Beginner canoe kayak run starts from Bourg-Saint-Maurice in Savoie. The group will navigate the Isere, passing by the villages of Landry and Bellentre, finishing at Gothard. Here at Gothard you will find the Versants d'Aime leisure park.
This whitewater outing takes place on the Haute-Isere: 90 minutes of water sports fun paddling along 9 km of river. This course is classified Grade 3.
We will paddle downstream from Bourg-St-Maurice to Gothard. During this run, everything can be turned into a chance to become more proficient on the river: learning how to place your craft and performing basic white water manoeuvres (eddy stops, getting out of an eddy, ferry).
Price of activity: €65€ per person
From 13 years old
What is included in the price?
Advanced Canoeing-raft and Kayaking-raft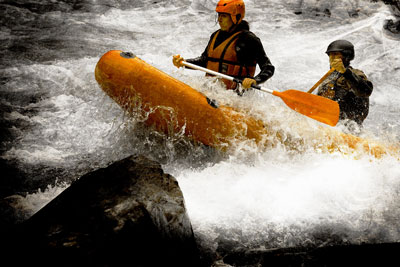 The Advanced canoe kayak run on the Haute-Isere is half an hour longer than the Beginner run and includes a section of the river that is classified Grade 4. The run is from Bourg-Saint-Maurice all the way to Aime, passing by Landry, Bellentre and Gothard, a total of 13 km of river and a 2-hour adventure to fully master your craft on the Isere. Once you reach the Aime rapids you will see how important your advanced navigation technique is.
Price of activity:€80 per person including paddling the Aime rapids.
Frome 15 years old.
What is included in the price?
CANOEING ON THE UBAYE
If you are in the Southern Alps, go and see our friends Oueds & Rios, river guides at Méolans-Revel. Draw on their experience and paddle down the River Ubaye in a canoe with real pros.