River board Savoie

HYDROSPEED BOURG ST MAURICE PRICE
Below you will find the prices for our two offers navigating the Isere in Savoie by hydrospeed. The route goes from Bourg-Saint-Maurice to Gothard or from Bourg-Saint-Maurice to Aime, depending on your age and level of skill.
Naturally, we also have full day or weekend formulas combining several whitewater activities. During your stay in Bourg-Saint-Maurice, Les Arcs, Tignes, Val-d'Isere and La Plagne, etc. you can try out rafting in the morning and then hydrospeed, or whitewater swimming, in the afternoon, or canoeing or canyoning. You get to create your own white water formula.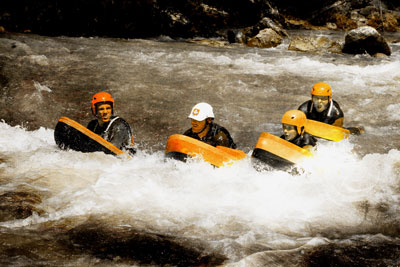 9 km of river, 90 mins of swimming, Grad 3
Price: €65/pp. From 13 years old
Rendezvous: 9 am and 1:30 pm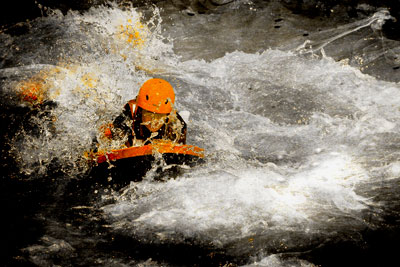 13 km of river, 120 mins of swimming, Grade 4
Price: €80/pp. From 15 years old
Rendezvous: 9 am and 1:30 pm
WHITEWATER SWIMMING IN THE ISERE
Whitewater swimming in the River Isere, commonly known as hydrospeed (here in the Isere but it could also be hydrospeed in the Ubaye) is the most popular white water activity, along with rafting from Bourg-St-Maurice to Centron.
For hydrospeed, the swimmer is equipped with a foam board, a full body neoprene wetsuit with protective pads, and flippers for propulsion. This equipment is, of course, supplied by River Runners.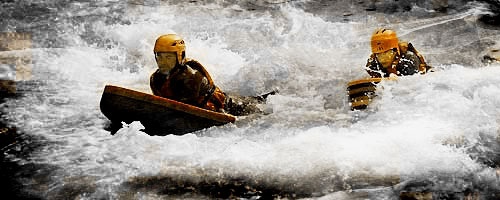 FUN AND EXCITING HYDROSPEED IN SAVOIE
Hydrospeed means swimming down a river using flippers and the current. Hydrospeed is a more physically demanding activity than rafting. With it, you can very easily enjoy the unique sensation of river surfing. A fantastic experience! You need to be in good physical condition and a good swimmer if you want to hydrospeed - you also need to know how to swim with flippers. You have to keep your wits about you and use the movement of the water, the obstacles and the waves to your advantage.
The trails are adapted to suit water levels and the experience of those taking part. We organise half-day hydrospeed outings which can be part of a weekend of activities, and we also run courses.
River boarding Annecy
Savoie / Haute-Savoie
Are you in Annecy or the region and really want to have a go at hydrospeed somewhere near Annecy? The River Runners whitewater base is only 90 minutes and 98 km away from Annecy. Just follow the lake towards Ugine / Albertville, and then follow the Isere up the Tarentaise Valley to Bourg-Saint-Maurice. The Isere is the best river for river boarding in Savoie and Haute-Savoie.
The Beginner hydrospeed trail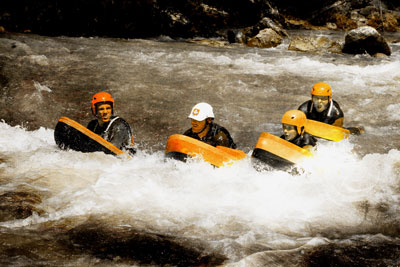 The Beginner hydrospeed route on the Isere starts at Bourg-Saint-Maurice, passes by Landry, and ends at Gothard. Here at Gothard you will find the Versants d'Aime leisure park..
This whitewater swimming trip takes place on the Haute-Isere: 90 minutes of adrenalin rush along 9 km of river. This course is classified Grade 3.
We will swim along the Beginner run from Bourg-St-Maurice to Gothard. This gives you the chance to gradually get the hang of the techniques and thrills of white water swimming. During the swim, everything is a chance to improve your skills on the river. You will learn to pick your line and carry out basic whitewater manoeuvres (eddy stops, getting out of an eddy, ferry).
Price of activity: €65 per person
Frome 13 years old
What is included in the price?
The Advanced hydrospeed trail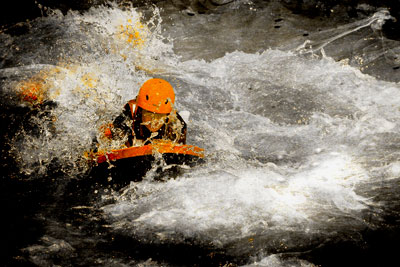 The Advanced hydrospeed route on the Haute-Isere is half an hour longer than the Beginner trail and includes a section of the river that is classified Grade 4.
That's Bourg-Saint-Maurice to Aime, via Landry, with 12 km of river and 2 hours of white water swimming adventure.
When you arrive at Gothard after 90 minutes of swimming, and if you have got the hang of sticking to your line, we will suggest that the most intrepid among you carry on and tackle the Aime rapids. All set for another 30 minutes of action and adrenalin!
There are so many ways to play with whitewater and its currents. You can surf the rollers, execute an Eskimo roll on the crest of a wave and use eddies to stop. The last part is the crowning glory of the trip as you swim the amazing Aime rapids.
Prcie of activity: €80 per person including swimming the Aime rapids.
Frome 15 years old.
What is included in the price?