Canoe raft or Hot-Dog
- Thecanoe-raft, called also hot dog is an inflatable boat like a raft, which enables one to paddle down exhilarating rapids in a tandem, without the inconveniences of a traditionnel canoe. It is unsinkable,stable and allows one, without too much technique to profite fully of the joys and fun of white water river descent.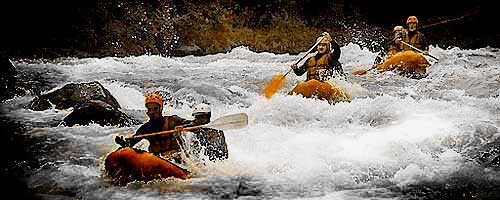 - The descents are practise by group of 4 to 5 boats, accompagnied by afully qualified guide. You are equiped with neopren suits and shoes, a safety jacket and a helmet.
Canoe Rafting is practise mainly on the Isere river, the course is choosen according to the water levels and experience of the participants.
Canoe raft video
The best way to give you a taste of what awaits you on your future hot dog session!!
Here, the Sia river in Italy.